Decided to pick up a project, start a build thread and hopefully finish it this time.
Picked up a boston green 1994 325is coupe, 5 speed with factory l.s.d.
Thanks to Kyle & Titan Towing and Jerf/aCid.
Got the car for a deal as it has a bunk clutch. In typical DFWM fashion, I lowballed the shit out of the seller and got a brand new Sachs HD clutch kit with it. Got it home last nightand promptly ordered a shitload of parts.
M3 bumpers and door mouldings.
TOB/PB/flywheel seal/pivot pin and clip/rear main and all new bolts/nuts.
carbon fiber sunroof delete.
RTAB's
RSM's
New Guibo
Next weeks shopping list:
Ground control track/school hybrid coilover kit with camber plates.
Autopower rollbar
fixed back Corbeau race seats
VAC seat mounts
D-force wheels/tires
Then off to Greg at Fivestar to paint the M-bits and some other crap.
Plan is to DD it while getting the suspension, saftey and appearance done.
Then, after tax season next year, dive into the LSx/T56 swap and also do an accusump/improved racing baffle. It will have minimal interior, but still retain heat and A/C.
Here it is after we got it home.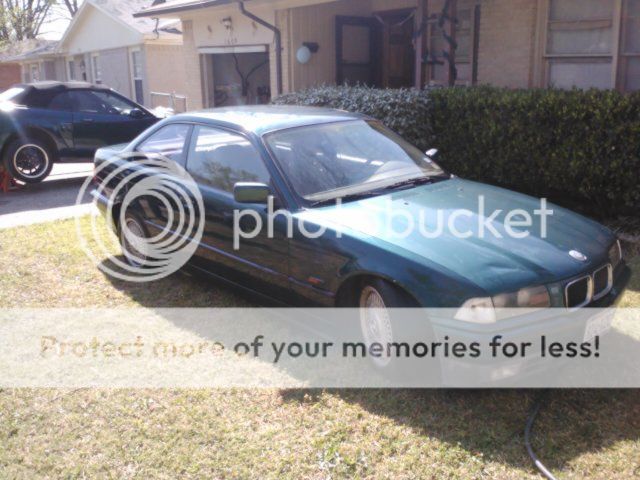 Similar to the end result I'm looking for, same wheels.